December 13, 2018
New: Aeolus NEO winter tyres
Optimal grip and certainty in all conditions

Aeolus is expanding its NEO range with winter tyres: the NEO Winter S and the NEO Winter D. A complete range, for both the steering and drive axles, allowing the carrier to deliver on time and at low mileage costs, even in extreme winter conditions.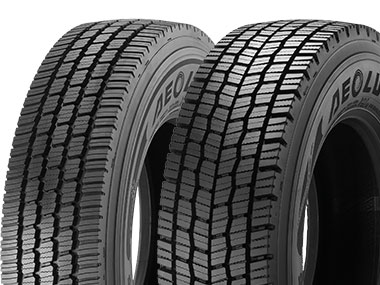 Product manager Jeroen Vos gives an explanation of Aeolus' design choices for the new winter tyres: "The NEO Winter S and the NEO Winter D have a sophisticated and extra deep 3D tread pattern to guarantee extreme traction. Exactly what a carrier wants if snow, frost and ice threaten to wreak havoc with your estimated time of arrival. For the steering axle tyres, we selected a winter-oriented rubber compound and a special shoulder design for guaranteed grip and comfort when steering. The drive axle tyres have an extra row-belt to reinforce the carcass, and an additional hard-wearing layer in the tread compound. This assures high mileage and excellent economic life. As far as I am concerned, this is the best proof that our partnership with Pirelli enables us an optimal response to wishes in the tyre market."
Most frequently used sizes now available
After an extensive test period, Aeolus is now marketing the most frequently used sizes: 295/80R22.5, 315/70R22.5 and 385/65R22.5. These sizes are available as from now with our exclusive importer, Heuver. The other sizes (295/60R22.5, 315/60R22.5, 315/80R22.5 and 385/55R22.5) will be added to the range in 2019. For more information about the NEO Winter S and NEO Winter D, please visit aeolus-tyres.com/neowinter.
Compliance with the highest requirements of the European market
Just like other tyres in the NEO series, Aeolus' winter tyres were developed and manufactured in accordance with the latest technological developments to comply with the very highest requirements of the European market. The fact that the NEO series is manufactured under the patent and licence of Pirelli adds to Aeolus' power.
Excellent price-quality ratio
With the motto No Matter What, Aeolus offers tyres that are perfectly in line with the daily challenges of the transport, earth-moving and the agricultural sectors. This implies that the tyres have an excellent price-quality ratio and are suitable for even the most demanding purpose, with perfect performance in all conditions. Also, Aeolus offers both a carcass guarantee and a Breakdown Service offering 24/7 assistance for breakdown due to tyre issues. Since its European introduction in 2004, Aeolus has grown into the familiar alternative for the big A brands.

You can find Aeolus Tyres everywhere. Even in your neighborhood!